Good quality and durable industrial V-belt
Product Detail
Product Tags
The V-belt is also known as the triangular belt. It is the collective as a trapezoidal ring belt, mainly to increase the efficiency of the V belt, extend the service life of the V belt, and ensure the normal operation of the belt drive.
V-shaped tape, referred to as V-belt or triangle belt, is a general name for the trapezoidal annular transmission belt, divided into special belt core V belt and ordinary V belt two categories.
According to its section shape and size can be divided into ordinary V belt, narrow V belt, wide V belt, multi wedge belt; According to the belt structure, it can be divided into cloth V belt and edge V belt; According to the core structure, it can be divided into cord core V belt and rope core V belt. Mainly used in motor and internal combustion engine driven mechanical equipment power transmission.
V-belt is a kind of transmission belt. General industrial V with ordinary V belt, narrow V belt and combined V belt. 
The working face is the two sides in contact with the wheel groove.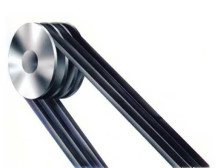 1. Simple structure, manufacturing, installation accuracy requirements, easy to use, easy to use,
Suitable for cases where the center of the two axes is large;
2. The transmission is stable, low noise, buffer absorbing effect;
3. When overloaded, the drive belt will slip on the pulley to prevent damage to weak parts, and safe protective effects. 
1. If the tension of triangle tape cannot meet the requirements after adjustment, it must be replaced with a new triangle tape. Replacement in the same pulley on all the belt should be replaced at the same time, otherwise due to different old and new, different length, so that the load distribution on the triangle belt is not uniform, resulting in the vibration of the triangle belt, the transmission is not smooth, reduce the efficiency of the triangle belt transmission.
2. in use, the triangle belt operating temperature should not exceed 60℃, do not casually coated belt grease. If the surface of the triangle belt is found to glow, it indicates that the triangle belt has slipped. It is necessary to remove the dirt on the surface of the belt and then apply the appropriate amount of belt wax. Clean triangle belt with warm water, not cold and hot water.
3. for all types of triangle belt, not rosin or sticky substances, but also to prevent pollution on oil, butter, diesel and gasoline, otherwise it will corrode the triangle belt, shorten the service life. The wheel groove of the triangle belt should not be stained with oil, otherwise it will slip.
4. when the triangle belt is not used, it should be kept in a low temperature, no direct sunlight and no oil and corrosive smoke, in order to prevent its deterioration
---
Previous:
QT4-35B Concrete block making machine
---
Write your message here and send it to us